Grade 10 Chromium Steel Balls

High precision balls are within 10/1,000,000′′ round, twice as round as the industry standard, at it's highest level.
52100 High Carbon Chromium Alloy Races
Enduro Bearings uses highest quality 52100 High Carbon Chromium Steel Alloy race material from Japan. There are many suppliers of 52100 material, but they do not all necessarily provide the same quality material. The material for Enduro steel races starts with and extremely-pure, vacuum de-gassed chromium steel alloy that is then hardened to Rockwell HRC 64 by multiple rounds of heat and cryogenic treatment. The material is then cut to size and the races are machined, ground and polished to a mirror finish for ABEC-3 precision and noiseless movement.
Enduro ABEC-3 bearings also feature riveted steel bearing retainers for toughness, and are noise tested to meet or exceed ABEC-3 tolerances
Enduro ABEC-3 bearings are available in C-3 or C-N internal clearance tolerance specifications.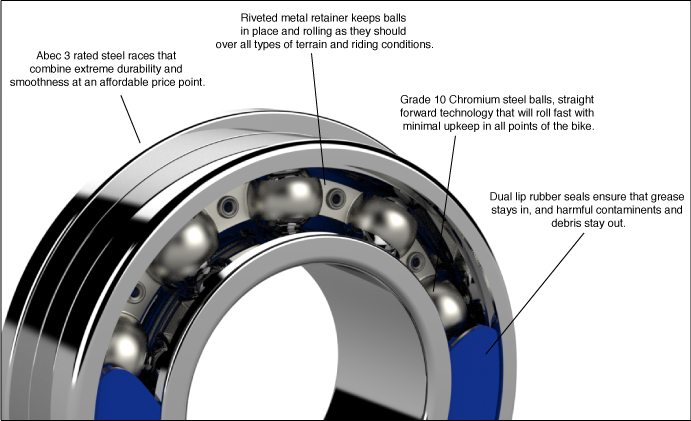 For further information please refer to Enduro's catalogues https://www.endurobearings.com/support/catalogs/
Normal Delivery
Normal delivery on most 'In-store' items is 2-3 business days (weekdays) from payment, but can take up to 5 days for items dispatched from our 'Warehouse'. Please allow up to an extra 2 days for rural delivery. Orders placed after 3pm are not processed or dispatched until the next business day (weekday).
You'll receive a tracking number once the order has left to ensure you know where this is every step of the way. If you haven't received this within 48 hours then please contact us to confirm.
Shipping Bikes
Giant, LIV and Norco branded bikes cannot be shipped. They must be picked up at the store. This is part of their warranty conditions and Pushbikes dealer agreements. We're happy to process the order through the website, but you'll need to collect the bike fully assembled in-store.
All electric bikes are unable to be shipped due to the weight and lithium batteries being classed as Dangerous Goods. The shopping cart will only give 'Click & Collect' options for these.
Bikes that can be shipped are charged at two different rates, $50.00 for smaller bikes/boxes and $75.00 for full size bikes. This will automatically calculate at the checkout.
Processing of bikes can take up to 7 days if they are needing to be shipped from our suppliers.
Free Freight
We offer free freight on all orders over $99 in value*, and just $6 for orders under this. Regardless of the size and weight of your order we want to deliver the best value with no hidden fees. *This excludes larger items, which are charged at flat fee of $25.00.
Larger Items
Larger and or bulky items which carry more weight, like, bike racks, smart trainers, wheels, are charged at a flat fee of $25.00. This will automatically calculate at the checkout.
Click & Collect
Order online and collect from either of Pushbikes stores. If you're wanting to collect your order in store, please note that some items are drop shipped from our suppliers, and may not be ready for collection straight away.
Pre-Ordered Items
Delivery time frames for Pre-Ordered items are an estimate on the delivery window given buy our suppliers or logistics agent. Currently due to Covid-19 related delays dates can change, if this happens we'll contact you to advise. Items are shipped or completed ready for 'Click & Collect' once they become available. 
Returns and Warranty
You can read Pushbikes return and warranty policy here.
Questions
Please contact us with any questions.