The first streamlined handlebar bag designed specifically for aerobars and the demands of ultra-distance cycling competition and audax.
Mounting securely underneath aero bars, this pack provides streamlined storage for lightweight and compressible items. The perfect balance between carrying capacity and a minimal front profile, this aero bar bag is designed to provide additional storage without slowing you down.
A customisable attachment system ensures this pack is compatible with all bikepacking aero bars and an adjustable bungee tie down creates additional space between the aero bars for items that require quick access. The roll down closure provides flexible carrying capacity while minimising the aero bar bag's front profile and maintaining its slim design.

"For any ride over 150 miles, aerobars are a must for me. I've always felt like the space between the aerobars would make great real estate for bikepacking and the Racing Aerobar Pack makes for a clean approach to underutilized space"
- Nico Deportago-Cabrera / Bike Messenger & Racer
RACING SERIES
Designed for the specific demands of ultra-distance competition and audax.
---
specifications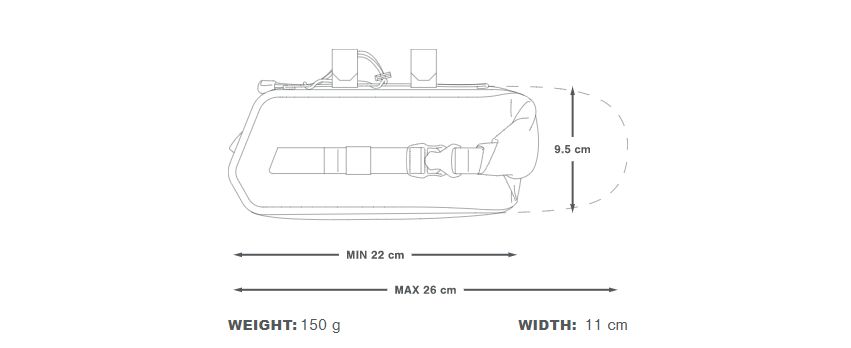 ---
Materials
Precision Crafted using seam welding for unbeatable waterproofing. The aero bar bag uses technical materials and streamlined, 'less is more' design principles tailored to the demands of ultra-distance cycling competition and audax
Hexalon to keep weight low and ensure the pack is waterproof
Hypalon reinforced straps and attachment points to enhance durability
Integrated polymer structure (42% recycled content)
Elastic bungee tie down for lightweight additional storage
---
Care Instructions
Wash by hand, using a mild diluted soap if necessary. Afterwards, let it air dry.
Do not machine wash, machine dry, or iron.
---
APIDURA
We're an independent, family-run business of cyclists, makers and problem solvers, brought together by a shared mission to find better ways to explore the world by bike.
Apidura was born from necessity; pioneering ultralight, rackless packing systems to help us take our love of cycling further and allow riders to unlock their instinct for adventure. As devoted adventure cyclists, we design with our fellow riders in mind, creating products that address genuine needs and bring new value to the bikepacking scene. We create the best packs we can, using technical materials and precision crafting techniques – and when we find a way to improve them we do so straight away and without fanfare. We don't do 'seasons', limited editions or discount our gear – we simply create the best possible technical bikepacking gear that's built to last.
NORMAL DELIVERY
Normal delivery on most 'In-store' items is 2-3 business days (weekdays) from payment, but can take up to 5 days for items dispatched from our 'Warehouse'. Please allow up to an extra 2 days for rural delivery. Orders placed after 3pm are not processed or dispatched until the next business day (weekday).
You'll receive a tracking number once the order has left to ensure you know where this is every step of the way. If you haven't received this within 48 hours then please contact us to confirm.
SHIPPING BIKES
Giant, LIV and Norco branded bikes cannot be shipped. They must be picked up at the store. This is part of their warranty conditions and Pushbikes dealer agreements. We're happy to process the order through the website, but you'll need to collect the bike fully assembled in-store.
All electric bikes are unable to be shipped due to the weight and lithium batteries being classed as Dangerous Goods. The shopping cart will only give 'Click & Collect' options for these.
Bikes that can be shipped are charged at two different rates, $50.00 for smaller bikes/boxes and $75.00 for full size bikes. This will automatically calculate at the checkout.
Processing of bikes can take up to 7 days if they are needing to be shipped from our suppliers.
FREE FREIGHT
We offer free freight on all orders over $99 in value*, and just $6 for orders under this. Regardless of the size and weight of your order we want to deliver the best value with no hidden fees. *This excludes larger items, which are charged at flat fee of $25.00.
LARGER ITEMS
Larger and or bulky items which carry more weight, like, bike racks, smart trainers, wheels, are charged at a flat fee of $25.00. This will automatically calculate at the checkout.
CLICK & COLLECT
Order online and collect from either of Pushbikes stores. If you're wanting to collect your order in store, please note that some items are drop shipped from our suppliers, and may not be ready for collection straight away.
PRE-ORDERED ITEMS
Delivery time frames for Pre-Ordered items are an estimate on the delivery window given buy our suppliers or logistics agent. Currently due to Covid-19 related delays dates can change, if this happens we'll contact you to advise. Items are shipped or completed ready for 'Click & Collect' once they become available.
RETURNS AND WARRANTY
You can read Pushbikes return and warranty policy here.
QUESTIONS
Please contact us with any questions.
Apidura Racing Aerobar Pack