Frequently Bought Together:
Make it a bundle! Select any items to add to cart.
The Expedition Saddle Pack is waterproof, lightweight, and provides a spacious compartment under the saddle, eliminating the need for a rear rack. It's designed to hold clothes and equipment on long distance rides.
Built from a lightweight laminate developed specifically for Apidura, the saddle bag is highly resistant to abrasions and tears. The seams have been welded together, creating a waterproof seal that ensures contents always stay dry, even in sustained rain.
A three-point attachment system with Hypalon-reinforced velcro straps allows the saddle bag to hug the seat post, increasing stability and cutting down on lateral movement. Additional Hypalon on the bag's body keeps frames in good condition.
The Expedition Saddle Pack is available in three sizes for adventures long, short, and in-between. Additionally, the roll-down compression and closure system means the bag's volume can be tailored precisely to fit a range of packing needs.
Lightweight waterproof laminate, developed specifically for Apidura
Hands-free air release valve for easy packing and compression
Sturdy and secure three-point attachment system
Roll-top closure for adjustable capacity
Carbon-friendly attachment with Hypalon-reinforced velcro straps
Reflective graphics and light attachment point for increased visibility

EXPEDITION SERIES
Created for road riding and long-distance tours, the Expedition Series is built from a lightweight material that provides unparalleled waterproofing and defence from the most punishing conditions.
---
SPECIFICATIONS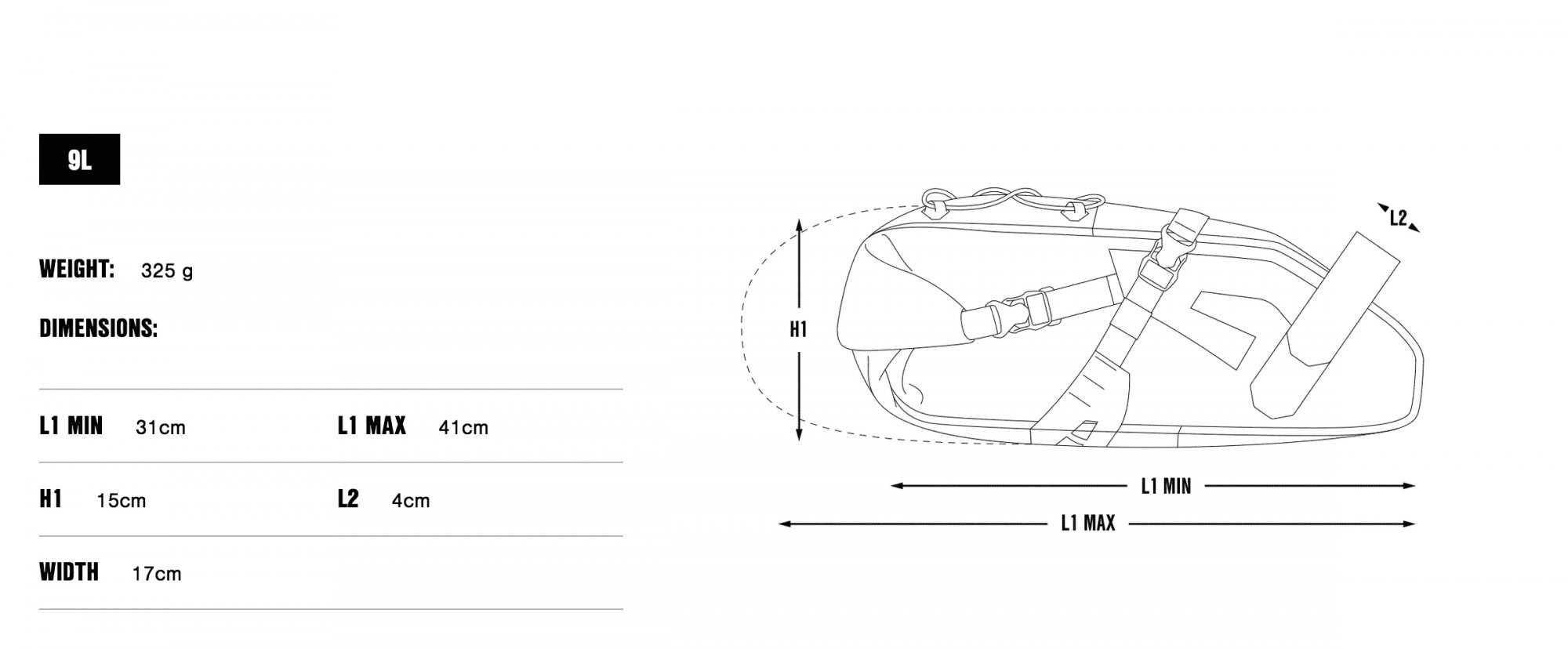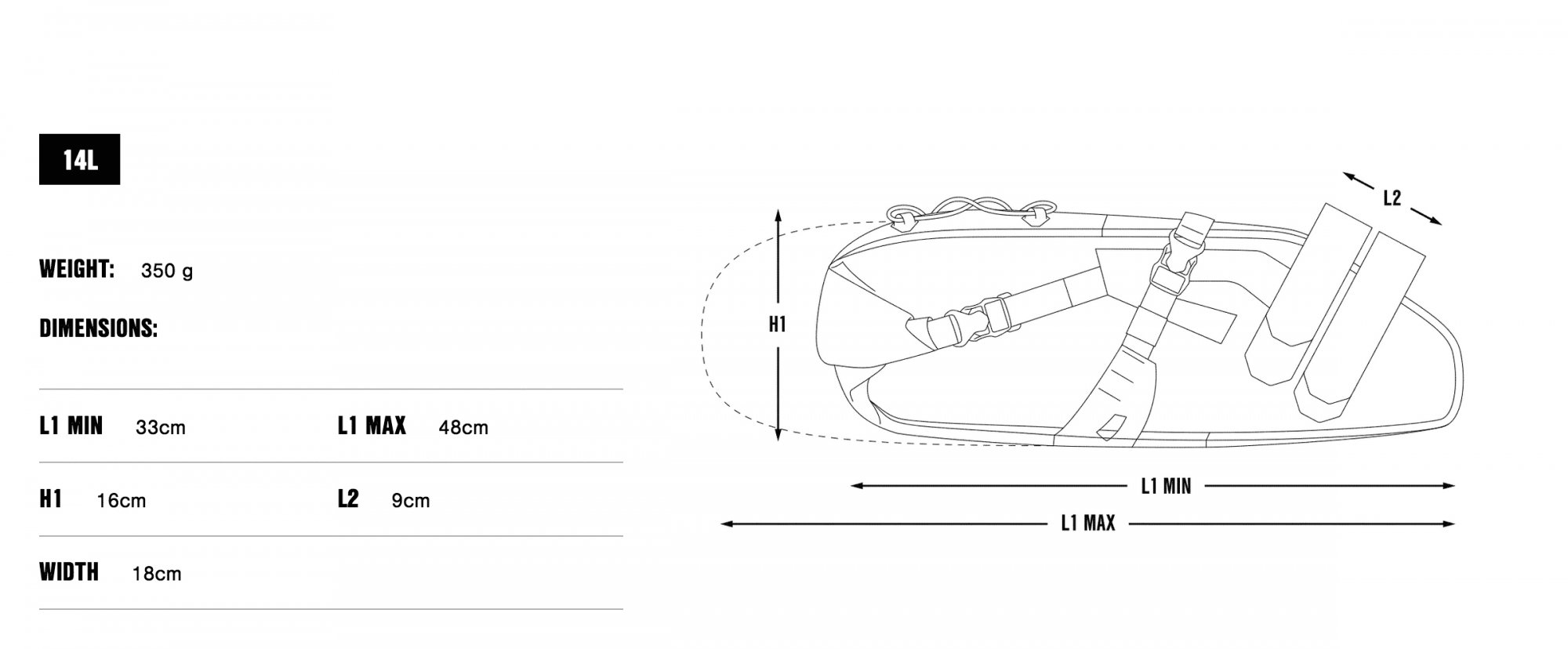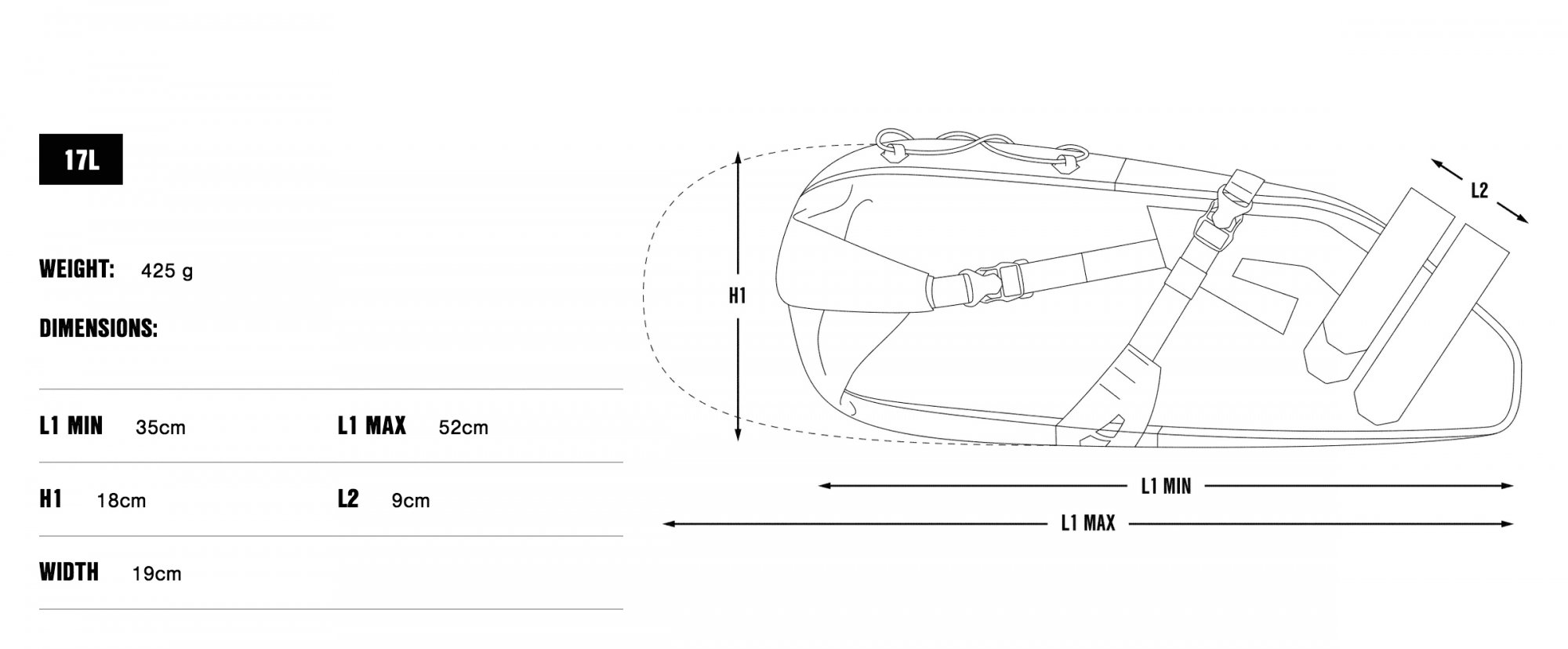 ---
Materials
The saddle bag is cut from a three-layer laminate fabric that was developed specifically for us. The material is lightweight, and is highly resistant to tears and abrasion. Notably, it's welded together at the seams, creating a watertight seal that ensures the saddle bag remains completely waterproof.
The bag's attachment points are reinforced with Hypalon, a rubberised nylon used to provide extra protection against friction and abrasion. For the straps, Woojin buckles have been chosen for their strength and reliability.
Finally, a lightweight moulded section of HDPE thermoplastic sits in the saddle bag's lower section to reinforce its structure.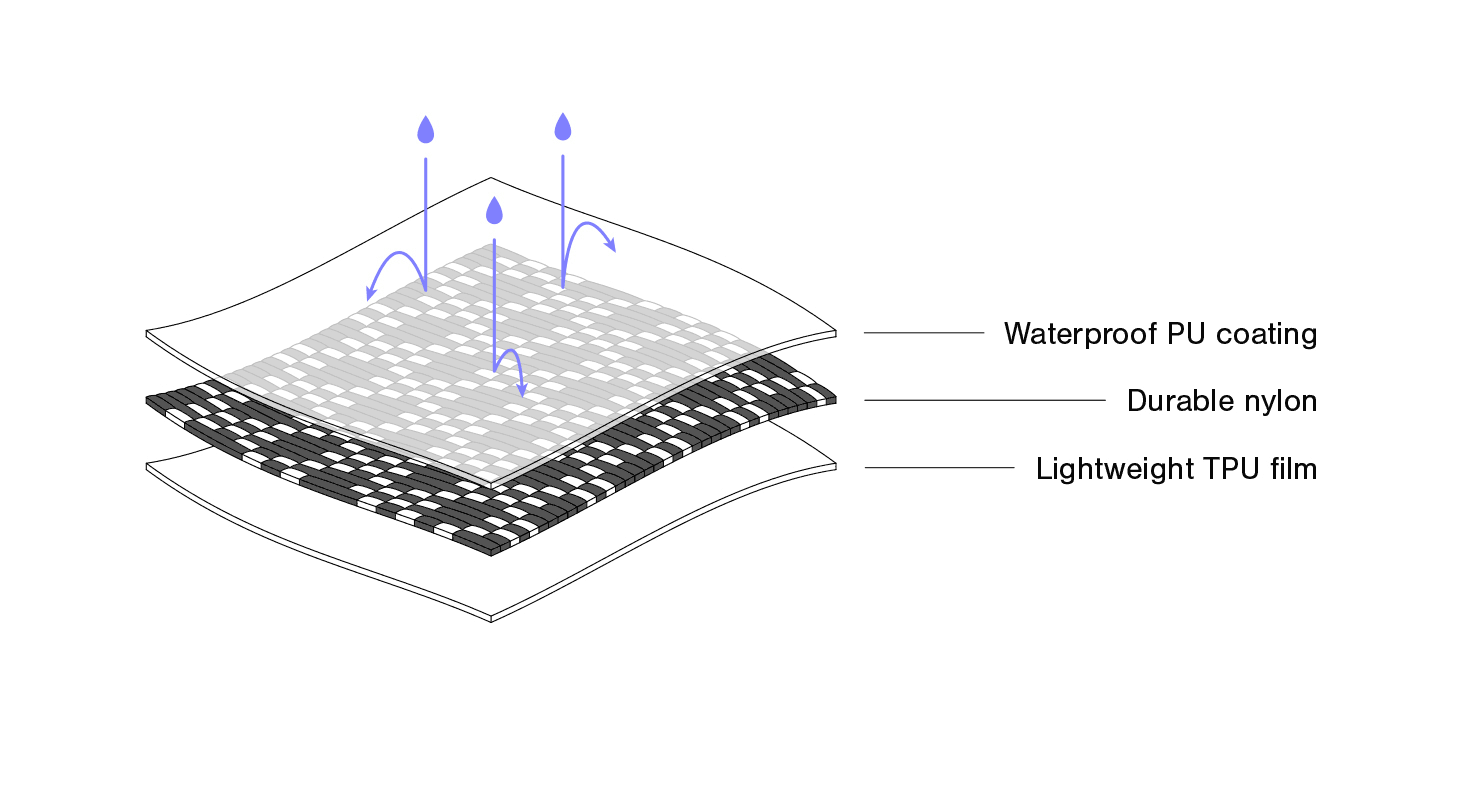 ---
Care Instructions
Wash the saddle bag by hand, using a mild diluted soap if necessary. Afterwards, let it air dry.
Do not machine wash, machine dry, or iron.
---
APIDURA
We're an independent, family-run business of cyclists, makers and problem solvers, brought together by a shared mission to find better ways to explore the world by bike.
Apidura was born from necessity; pioneering ultralight, rackless packing systems to help us take our love of cycling further and allow riders to unlock their instinct for adventure. As devoted adventure cyclists, we design with our fellow riders in mind, creating products that address genuine needs and bring new value to the bikepacking scene. We create the best packs we can, using technical materials and precision crafting techniques – and when we find a way to improve them we do so straight away and without fanfare. We don't do 'seasons', limited editions or discount our gear – we simply create the best possible technical bikepacking gear that's built to last.
Apidura has just launched a new interactive sizing tool for their bike packing frame bags, making it easier to get that perfectly fitting bag. Choosing which bag setup you plan on using comes down to how much gear you're needing to take and how long the journey will be. Some frame packs are limited by smaller bike frame sizes or different bike geometries so it's important to get this right.
Apidura's new visualizer tool gives you a visual view of how your bike will look setup, by allowing you to add bags to it to visually see and ensure that they fit inside your frame. If you're wanting a quicker answer without using the new visualizer, you can now also select your bike brand and model from a pre-populated drop down menu to get a list of bags which will fit.
Both new tools take the guesswork out of finding which bag size you'll need and is certainly better than using paper templates or multiple rulers.
Delivery Time Frames
Normal delivery
In-store items are shipped in 2-3 business days (weekdays) from payment. Please allow up to an extra 2 days for rural delivery. Orders placed after 3pm are not processed or dispatched until the next business day (weekday).
From Supplier
Items from most suppliers are shipped within 2 to 4 business days. Certain suppliers, can take up to 8 business days to ship, see the estimated delivery times on the product page for further info. If you are rural please allow up to an extra 2 days for delivery.
Tracking Information
You'll receive a tracking number once the order has left to ensure you know where this is every step of the way. If you haven't received this within your expected delivery time then please contact us to confirm.
Shipping Bikes
Giant, LIV and Norco branded bikes cannot be shipped. They must be picked up at the store. This is part of their warranty conditions and Pushbikes dealer agreements. We're happy to process the order through the website, but you'll need to collect the bike fully assembled in-store.
All electric bikes are unable to be shipped due to the weight and lithium batteries being classed as Dangerous Goods. The shopping cart will only give 'Click & Collect' options for these.
Bikes that are shippable are generally charged at $25.00 for kids bikes and $75.00 for standard bikes. This will automatically calculate at the checkout.
We withhold the right to adjust the freight charge for any bikes that fall outside of this criteria, on a case by case basis, please contact us if you would like further info on shipping a bike.
Processing of bikes can take up to 7 days if they are needing to be shipped from our suppliers.
Free Freight
We offer free freight on all orders over $130.00 in value*, and only $7.20 for orders under this. Regardless of the size and weight of your order we want to deliver the best value with no hidden fees. *This excludes larger items, which are charged at a rate of $25.00 to $100.00 dependent on size and weight. Rural addresses include a rural delivery fee.
Larger Items
Larger and or bulky items which carry more weight, like, bike racks, smart trainers and wheels, are charged at a starting rate of $25.00 up to $100.00, dependent on size and weight. This will automatically calculate at the checkout.
Click & Collect
Order online and collect from either of Pushbikes stores. If you're wanting to collect your order in store, please note that some items are drop shipped from our suppliers, and may not be ready for collection straight away.
Pre-Ordered Items
Delivery time frames for Pre-Ordered items are an estimate on the delivery window given buy our suppliers or logistics agent. Currently due to Covid-19 related delays dates can change, if this happens we'll contact you to advise. Items are shipped or completed ready for 'Click & Collect' once they become available. 
Returns and Warranty
You can read Pushbikes return and warranty policy here.
Questions
Please contact us with any questions.
Apidura Expedition Saddle Pack