The Future of Cycling: 4iiii PRECISION 3+ Power Meter with Apple Find My Integration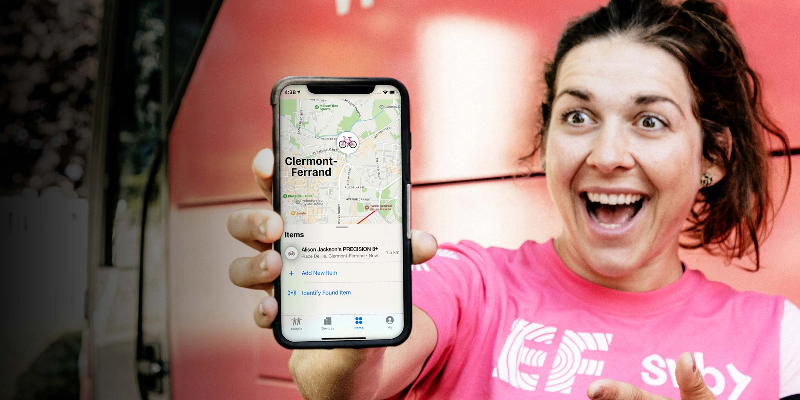 The world of power meter technology has just taken a significant leap forward with the launch of the 4iiii PRECISION 3+ Power Meter. 4iiii isn't new to the market and has been producing highly accurate power devices for some time, but now they seamlessly integrate with Apple's Find My technology, offering even more security and the ability to track your bikes.
The Power of Integration
One of the standout features of the PRECISION 3+ Power Meter is its integration with Apple Find My. This marks a significant milestone as it becomes the world's first power meter to incorporate this technology. By tapping into Apple's vast network of over 1.5 billion users, cyclists can now enjoy the peace of mind of knowing the exact location of their beloved bikes. Whether you're on a challenging mountain trail or navigating city streets, you can rest assured that your bike's whereabouts are always just a click away.
Phil White, President, and CEO of 4iiii, emphasizes the importance of this integration, stating, "We wanted to do more than just release another power meter. With the addition of Find My integration and seamless use with Apple devices, the PRECISION 3+ really demonstrates where we can go with this technology as bikes (and their users) become smarter and more connected." This collaboration between 4iiii and Apple showcases the exciting possibilities that lie ahead as cycling technology becomes increasingly interconnected.
Precision Performance
Beyond its groundbreaking integration with Find My, the PRECISION 3+ offers an array of features designed to enhance your cycling experience and training data. It boasts real-time terrain auto-optimization, a feature that ensures optimal performance and unwavering accuracy regardless of the riding surface. The power meter utilizes an accelerometer for smooth, steady-state cruising and seamlessly switches to the gyroscope when encountering rough terrain, gravel paths, or during high RPM sprints. This adaptive technology ensures that your power data remains highly accurate within an industry-leading margin of +/- 1%.
In addition to its impressive performance capabilities, the PRECISION 3+ Power Meter boasts an exceptional battery life of up to 800 hours, reducing the need for frequent recharging. It also comes with a reassuring 3-year warranty, demonstrating 4iiii's commitment to quality and durability.
Availability
Cyclists can get their hands on the PRECISION 3+ Power Meter in two convenient ways. It's available as a "Ride Ready" option, already installed in Shimano cranks, ensuring a hassle-free setup. For those with existing cranks, 4iiii offers a Factory Install program, allowing you to upgrade your bike with this cutting-edge technology. For New Zealand customers, it's more affordable to purchase a "Ride Ready" option due to associated freight costs. Additionally, the PRECISION 3+ PRO Power Meter will soon be available on Ultegra and Dura-Ace dual sets, catering to a wide range of cycling enthusiasts.
Conclusion
The 4iiii PRECISION 3+ Power Meter with Apple Find My integration is a game-changer in the world of cycling technology. Its ability to provide highly accurate power data while seamlessly connecting with Apple's vast user network opens up exciting possibilities for cyclists. With real-time terrain optimization, exceptional battery life, and a 3-year warranty, it's a device that promises to elevate your cycling experience to new heights. As cycling continues to evolve in the digital age, the PRECISION 3+ sets the standard for what's possible in the world of connected riding. Get ready to embrace the future of cycling with 4iiii's groundbreaking innovation.
---