Which is the best mountain bike light - Gloworm or Magicshine?
Bike lights specifically designed for night riding have come a long way in recent years, noticeably they've got brighter, have longer runtimes and are more capable than ever before. 
With these advancements, a proper light set can be used in multiple applications, from adventuring racing, mountain biking, and bike packing to name a few.
In this article we're comparing two of Pushbikes most popular selling lights, and in our view the best mountain bike lights in the market. 
I have been running both of these lights this season, and have run an older Gloworm for many more. I have been impressed with both in numerous setups, and they are in my opinion the best options currently on the market.
Firstly (and not in order) Gloworm, which have just released their all new G2.0 range of lights, through their new app the light is fully customizable creating a new standard in performance that we've never seen. Secondly MagicShine, which packs a lot of performance and would be the best value for your money.
Continue reading for an in depth comparison of Gloworm's top of the range XSV 3600 Lumen and Magicshine MOH55 Pro 4000 Lumen, both of which we've been running in different applications.
Gloworm handlebar mounted with the battery on the downtube.
Overview of the bike lights
Let's start with the price first, and possibly more of a summary of the review. The Gloworm XSV 3600 is currently selling for $554.99, with the Magicshine being nearly $120 cheaper at $483.99. 
Saving money and gaining an extra 400 lumens, you could easily make a decision now and head straight to the checkout with the Magicshine right? Not so hasty, with Gloworm's new integrated app allowing customization of the light modes, a remote, and a slightly better build quality with their machined CNC body, it offers some real advantages. After all, 3600 lumens vs 4000 lumens is a difference in power you'll have to look twice at to see.
Max Output
Both brands have impressive brightness, whatever terrain you're riding you'll be provided with more than ample light. If we are going by specifications on paper, the Magicshine does boast an extra 400 extra lumens over the Gloworm at 4000 lumens output. 
On the trail it's really hard to see the difference in brightness, and I'd call the output from both very much the same. What is different is the beam pattern, the Gloworms beam is more focused and does travel slightly further. The pictures below where taken in each lights standard configurations out of the box, however the Gloworms beam pattern is customizable, more on that next.
The Magicshine beam is very spread.
The Gloworm has a more focused beam.
Headlamp
Both headlamp units are CNC machined, and somewhat similar in weight, 132 grams for the Gloworm vs 99 grams for the MagicShine. 
The Gloworm is also noticeably bigger in size, due to having 3 x Cree XHP emitters vs 2 on the Magicshine, this is also where it gains the extra 33 grams in weight. Through the front stainless steel hardware you can access the emitters and customize the beam pattern. Each light includes a spare spot, honeycomb and wide lens which can be swapped out to suit your riding preferences. I can't personally vouch for this as I have never done this or felt I needed to, but Gloworm states that changing the optics in a light can greatly improve the overall user experience. 
The Magicshine on the other hand is more of a sealed construction with the cable not being able to be removed from the headlamp itself. The beam pattern is not customizable, so if you prefer a more focused beam then the Gloworm has it over the Magicshine.
Gloworm spare spot, honeycomb and wide lens which can be swapped out to suit your riding preferences, included.
Light Modes
Both lights offer 4 different modes plus an additional flashing or dim (Gloworm only) mode, giving you plenty of options for saving battery power whilst riding in certain situations and allowing you to switch on the high beams when needed.
The Magicshines preset modes are 100, 600, 1500, and 4000 lumen, with a preset SOS flashing mode. The Gloworm on the other hand can be fully customized through their new 'LINK' app, from 190 lumens right through to maximum output in each mode. Through the app you can have up to 4 modes, and either a dim or flashing mode where you can choose from 3 different patterns. This gives a real advantage over the Magicshine, the fact that you can program the light to give you the maximum amount of power for a certain duration.

Runtime on Max
Runtime on maximum output is slighter longer on the Magicshine, 2:25 hours compared to 2:00 from the Gloworm. Given the fact that the Magicshine does offer 4,000 lumens versus 3,600 lumens, then the extra runtime is definitely of advantage!
Runtime on Low
The Magicshine boasts an impressive 89:00 hours on low power at 100 Lumens! That's definitely an advantage if you're planning on completing long distance multi day rides. 100 lumens isn't a huge amount of output...but it's more than enough for a lot of situations where you're not riding downhill or navigating singletrack. I've used the magicshine on 2 of my recent bikepacking trips, and knowing that you can ride multiple nights without recharging the battery is a real advantage, more so for the 'battery level anxiety' which I have.
The Gloworm offers a maximum runtime of 51:48 hours at 190 lumens output, which will be plenty enough for most given that is over 2 days! To achieve this you'll need to head into the setting through their app and adjust the light modes output. Gloworm offers a handy light matrix for calculating their runtimes, although we're still a little confused as the times/percentages on the matrix don't align with what is displayed in the app, we're still waiting on a response from Gloworm.
Although I haven't tested these claimed runtimes as I've never used a single mode on the trail, I can vouch that they seem accurate to what I have experienced.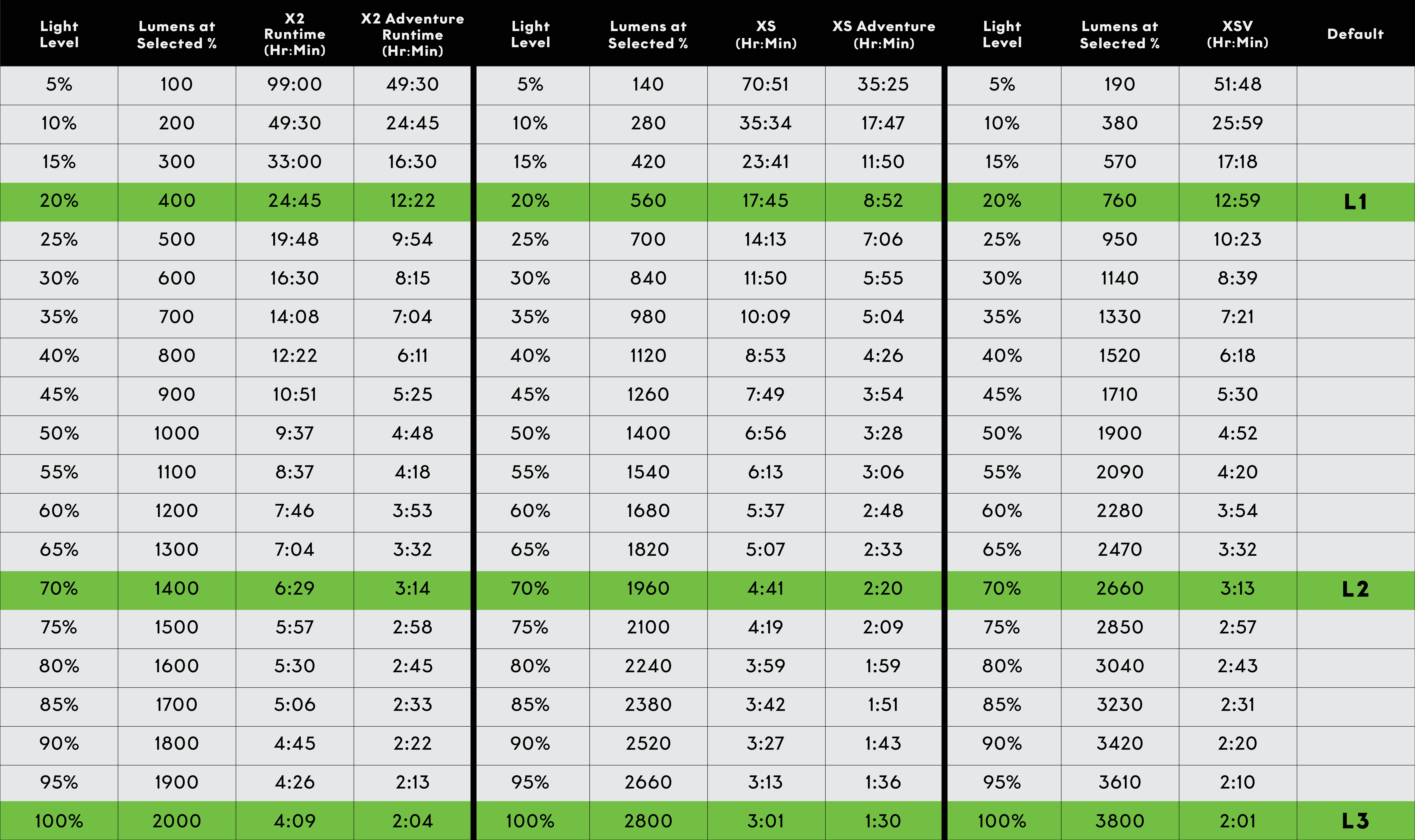 Battery
Both brands provide a huge 10,000 mAH Lithium Ion which provides those incredible runtimes. They have the ability to be mounted directly to the frame (as pictured) through the integrated silicone frame bumpers and strap slots or safely stowed in your backpack. The batteries are both of polycarbonate construction and nearly identical in size with the Magicshine being about 10mm longer, and 30 grams heavier at 389 grams.
Battery Indicator
The Magicshine has a fairly basic 3 LED indicator at the end of the battery to show where the life is at. Each indicator light relates to either 30%, 70% and 100% charge. This is fairly basic given there is a large gap between each level. If you've mounted the headlamp onto your handlebars there is also a backlit power indicator on the button which provides slightly more information. This has 4 modes, Green 100-75%, flash Green 75-50%, Red 49-25% and flash Red 25-1%.
The new Gloworm G2.0 Power Pack features an OLED display on the side of the battery, which not only gives you quick, up-to-date information about your light and battery, it displays the battery percentage in 1% increments and runtime so you know exactly how much is left.
Connections
It's nice to see both lights get USB-C connections, these are more efficient, less cumbersome and way more versatile allowing you to connect other devices to the batteries on both. No more fumbling in the dark to see if you have the plug around the right way! I personally carry a USB-A/USB-C to Micro USB/USB-C on bike packing trips which allows anything to be connected to the battery.
The Gloworm gets USB-C for both the battery and light, whereas the Magicshine has a proprietary cable for the light and an USB-C for the battery. This allows the battery to be simultaneously used through both connections, more on that below.
A USB-C to USB Type A converter is supplied with the Gloworm, if this is needed for your setup.
Power Bank Capability
The biggest capabilities from both systems is the ability to use the batteries as a power bank, which allows you to charge other devices. If you're planning on a multi day trip then it is of huge advantage. The Magicshine goes one step further, allowing you to simultaneously charge devices or the battery itself while using the light, due to using a proprietary light cable with the USB-C slot. This is perfect if you are running a dynamo hub setup.
How I currently run my bikepacking setup, using the Magicshine to charge my Garmin 1030 Plus (plus Garmin inReach, and Niterider Omega 300 taillight) while running the light. 
Wireless Remote
The XSV features Gloworms Bluetooth TX remote which has been a staple feature for a number of years. Through this you can either control multiple lights or just a single light depending on your setup. If you are running a dual light setup, one on the handlebar and the other helmet mounted, you can either control both lights from one button or both lights using two buttons – one up and one down. This is a very handy feature if you are running the light mounted on your helmet.
Although Magicshine do offer remotes for their lights, none are compatible with the MOH55.
Gloworms Bluetooth TX remote can be mounted either side of the handlebar.
Mobile App Integration
The new G2.0 Gloworm range is fully customisable with LINK – the Gloworm light customisation app. Through the app you have the freedom to set the number of light levels (up to 4 plus a flashing mode), choose if the light level will be fixed or flashing and even choose the type of flash pattern. The App also allows you to update the light and battery if and when these are released. If you're adjusting the light level intensity you will be able to see how long a full battery will last at that brightness. You can even rename your light and see what is happening with your battery. I think this is of huge advantage, but is there a real need considering that the default mode gives you great runtimes?
There is no customization for the Magicshine.
Waterproof Rating
Chances are you'll be using your light in all weather conditions, if you don't think you'll start your ride in bad weather you may get caught out with changing conditions. 
The Gloworm has an IP67 rating, meaning the light is dust tight and can be immersed in water between 15cm and 1m. 
The Magicshine has an IPX6 rating, which is similar to what you'll find on your smartphone. This means it is protected against powerful jets of water from all angles through a 12.5 mm nozzle at a flow rate of 100 liters/min at a pressure of 100 kN/m2 for 3 minutes from a distance of 3 meters.
Although both lights have different waterproof ratings, you can be sure that either will safely operate under extreme conditions. 
Weight Including Battery
There is a slight weight difference of 18 grams between the models in handlebar configuration, with the Gloworm weighing in at 490 grams vs the Magicshine at 508 grams. The differences comes from the headlamp of the Gloworm being heavier having 3 x Cree XHP emitters, the battery on the Magicshine is slightly bigger in size adding weight, plus you need a proprietary light cable to put the total weight of the Magicshine 18 grams more. Note that the weight doesn't include any brackets.
Mounts Included
Both lights come with an abundance of mounts and mounting options, the biggest difference is that the Magicshine uses a Garmin ¼ turn mounting system, which is a lot quicker if you're going between mounts. However if you're wanting to mount this directly to the handlebars it would require a further bracket. The brackets included are,
| | | |
| --- | --- | --- |
| | Gloworm XSV 3600 | Magicshine MOH55 Pro 4000 |
| Helmet Mount | Yes, via a universal light mount on the headlamp, onto GoPro style universal helmet mount which slides into the base plate. | Yes, an adjustable mount which the headlamp attaches to via a Garmin ¼ turn interface. |
| Handlebar Mount | Yes includes a quick release bar mount which is adaptable to either 31.8 or 35mm. | Yes and no, if you've already got a Garmin ¼ turn mount or a GroPro setup you're in luck, otherwise you'll need an additional bracket. |
| Head Strap | No, additional purchase. | Yes, included. |
Warranty
The warranty differs slightly between the two brands, with the Magicshine gaining an impressive 5 year warranty with just a single year's coverage on the battery. The Gloworm on the other hand gets a 1 year warranty and an extended 2 years on the light head.
Comparison
| | | |
| --- | --- | --- |
| | | |
| Price | $554.99 | $435.99 |
| Max Output | 3800 Lumens | 4000 Lumens |
| Headlamp | 3 x Cree XHP 35.2 Emitters (Spare optics included to customize beam pattern) | 2 x Cree XHP 50.2 Emitters |
| Light Modes | 4 Modes plus special mode (Dim or Flashing) - Fully customizable via app | 4 Modes plus SOS Flash - 100,600,1500,4000 Lumen |
| Runtime on Max | 2:00 hours | 2:25 hours |
| Runtime on Low | 51:48 (190 Lumens) | 89 Hours (100 Lumens) |
| Battery | 10,000 mAH Lithium Ion Fast Charge | 10,000 mAh Lithium Ion Fast Charge and Discharge |
| Battery Indicator | OLED Battery Percentage Display | 3 LED Display - 30%,70%,100%  |
| Connections | USB-C | Power USB-C, Light uses Proprietary Cable |
| Power Bank Capability | Yes (without using light) | Yes |
| Wireless Remote | Yes | No |
| Mobile App Integration | Yes | No |
| Waterproof Rating | IP67 | IPX6 |
| Weight incl Battery (handlebar configuration) | 539g | 510g |
| Mounts Included | Helmet and Bar Mounts | GoPro Mount, Headband and Helmet Mount |
| Warranty | 1 year (Light head 2 years)  | 5 years (Battery 1 year) |
Helmet or Handlebar Mount?
Getting the best out of your light matters, and mounting either on the handlebar or helmet will give very different experiences. Helmet mounted allows the beam to follow where you are looking, the terrain, further ahead and around corners. This is definitely best suited to mountain biking, but does mean having to wear a backpack for the battery. Handlebar mounted is definitely an easier setup and more suited towards road, commuting and gravel riding. The light will point where your handlebar goes, which often means a more steady consistent beam. 
Some riders are running both helmet and handlebar setups to get the best of both worlds!
---